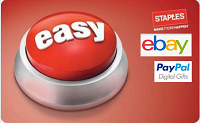 Limited 5 per buyer, Ebay via Paypal Digital Gifts is offering Staples $100 eGift Card for $15 Off, only while supplies last. Get 15% off when you buy $100 Staples egift cards, I'd add $200 to your cart and you will see the in-cart price for $170, that's a 15% discount. I like these email delivery deals because thes is no shipping fees involved and no likelihood of gift cards getting lost in the mail. Oh and the fact that you can use them immediately is also a big plus. There is a total of 15,000 available for purchase but at the time of this posting over 4,600 have already been sold. Normally I'd advise buyers to wait for a eBay Bucks promotional offer but if you really want this deal buy now. It looks like it may sell out in a day or so. You can still get 5X UR points with Chase INK so you will still get some excellent savings there.
Ebay Staples $100 eGift Card $15 Off:
Offer: Get a Staples $100 egift card for $85. No code necessary. Limit 5 per customer.
Expiration: Sale ends when supplies are depleted.
Terms: Valid only if purchased from a Staples U.S. retail store, at staples.com or from an authorized reseller or distributor, or received from an authorized distributor; Staples reserves the right to not honor cards obtained from unauthorized sellers, including Internet auction sites. Card has no value until activated. Lost, stolen or damaged cards replaced only with valid proof of purchase to extent of remaining card balance. May be used only in Staples U.S. retail stores. Cannot be used for credit card payments or to purchase other gift cards (including Staples Gift Cards) or wireless cards. Not redeemable for cash or credit except where required by law. No more than five cards may be used for any single purchase. Cards may not be consolidated.
Get 15% Off $100 Staples Gift Card:
Login to your eBay eBucks account to earn at least 2x on all your purchases whenever you shop on eBay, if you haven't you can sign up for eBay Bucks it's free.
Buy $200 Staples egift cards for $170 + earn $1.70 in eBay Bucks per $100 spent = in this case you'll get $3.40 back.
Use Chase Ink to get 5x points rewards = 850 UR Points
MATH: $200 – $30 – 3.40(Bucks) – $8.50(UR points) = Final Cost: $158.10
Final Verdict:
Those who shop or resell items from Staples, I suggest buying these Staples e-gift cards right away for maximum saving! Some users reported different payment each time checking out such as credit card, then debit card, then bank account, etc. See our full list of Gift Cards Deals today!